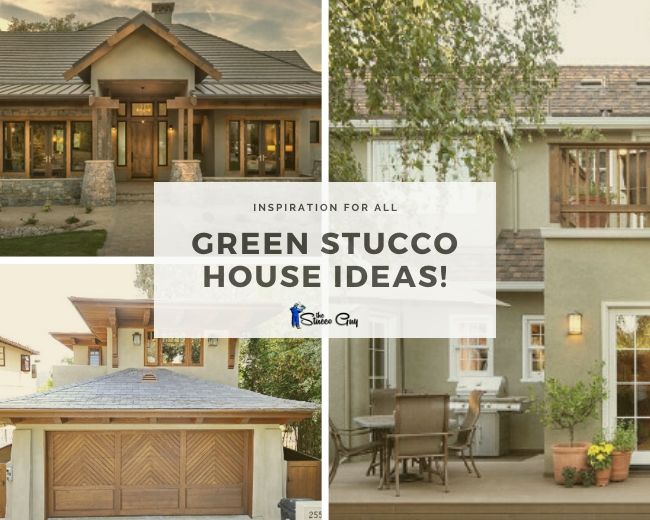 Green stucco is very popular and can work well on many different houses and building, if you choose the correct color combinations and, more importantly the "right green".
I decided to scour the net in search of some of (what I thought) were the best looking green stucco houses to provide some helpful insight and inspiration to those of you out there that might want to use a greenish color for your stucco walls.
Here's what I came up with...
Green Colors Offered By Stucco Manufacturers...
If you are planning on having stucco applied to a new project or recoating an existing stucco finish and are leaning more towards a green color, then you will want to check out some of the green colors offered by the various stucco manufacturers.
Traditional Finishes: The greens offered in the traditional type of stucco finishes will have a little bit of color variation to them due to the cement based nature of the material and how water tends to react with the color.
The colors will be lighter in general and not deep greens, like you can get with an acrylic type of finish.
Acrylic/Synthetic Finishes: If you do go with an acrylic or synthetic stucco finish in a green color, then your choices have opened up greatly!
Since acrylic stucco is very similar to a paint product, you will have many more colors to choose from on the stucco manufacturer's color charts.
You can also get a custom color match in an acrylic or synthetic stucco to match a green that you like from a physical sample or even from a paint manufacturer's paint chip! In essence, virtually any green you can think of is available with an acrylic

If you are planning on painting an existing stucco finish, then the color options are also pretty limitless, along the lines of the acrylic colors I mentioned (above).
Remember, There Are Different "Greens":
This is pretty obvious but there are different tones of greens that will make other elements stand out more or less and might even give the same house, with the same trim a completely different look.
Below, I used a picture of a house that uses some different green tones and you can see how it changes the overall look and feel.
Some shades of green have a gray hue to them and others have a slight bluish tint and so on nut it is worth checking out and being aware of when choosing green colors.

Trim Colors & Accent Colors:
There were a few different trim and accent colors that popped up time and time again out of the dozens and dozens of green stucco house I looked at.
There were three main colors that I think worked well with the green and these were white (bright and dull), brown shades and grays.
Stained Wood Examples: Some of my favorite houses in my lineup used a slightly darker green color with a darker stained wood, which I thought stood out above the other images.
The stained wood really was a darker brown color for the most part but a few lighter browns (more natural wood colors) seemed to work well too.
White: White was really used to bring out the trim on a lot of these green houses and from what I noticed, most of these examples were lighter green colors which is why the white trim pieces seemed to work better.
Gray Colors: The Grays that are found in the above picture and other pictures I looked at seemed to be lighter in nature and really was used in any rock work that was applied and/or the color of the roof, almost exclusively.
Take a look at some of the images above to get a better idea of what I'm talking about.
Same Color As Stucco: I did notice a couple of houses that added foam trim around some of the windows and a couple of columns and they used the same color as the stucco, which made it blend in a bit more but you still had that "pop out" look that people are going for.

Roof Colors & Materials...
There were tons of different roof colors I came across when looking at different houses with green stucco siding.
This is probably because green is more of a neutral color and will go with a lot of different roof colors, especially since the wall and roof are separate.
The roofing material was also not that specific, as there were metal roofs, comp (asphalt) roofs and tile roofs that all worked well with a green colored stucco.

The Most Common Colors: The four most common roofing colors I noticed were black, brown, gray and even a terracotta red. They all looked good and it didn't seem to make any difference if a lighter green stucco was used with a lighter roof or a darker one or if a darker green went better with a darker roof and so on.
A Visual Comparison: Just for comparison reasons though, I will take a house and change the roof color to give you an idea of how it can change the look and feel so you have a better idea of what to expect.