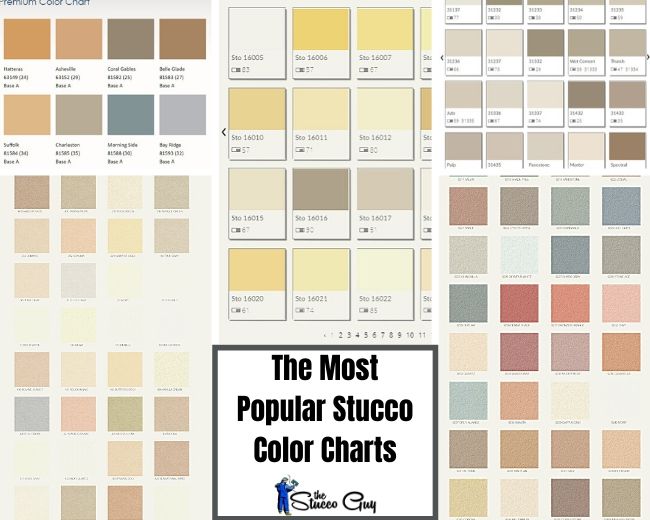 I recently was looking into various stucco color charts and found several of them, but I had to do a ton of searching around to look at the different ones that are provided by the many manufacturers.
So I decided to take all of the stucco colors out there and put them all into one place so it would be easier for people to view all of the various ones quickly.
Lahabra Color Charts:
Lahabra has three different charts available: standard, premium lifestyle and the Parex color collection. These are used in acrylic finishes and cement based finishes as well.
Here are a few links that will take you to the different pages of the different color options available through LaHabra:
Omega Color Charts:

Omega has two different colors that one can choose from. They are different, depending on the type of finish that you are planning on using. One chart is for a cement based finish and the other is for an acrylic finish.
Colortek is their cement based system and their acrylic colors are only available for , you guessed it, acrylic finishes.
Some helpful links to Omega's website to view the chart for yourself and to see what their specifications regarding colors are:

Merlex Charts:
Merlex offers two different color charts that you are able to choose from. A standard one and a premium one.
They also have a handy pdf document for each that is basically a scan of the actual color charts themselves, so you can view them that way as well (no longer available, it seems?).
Links to Merlex's site and additional information about their products:
Dryvit's Choices:
Dryvit had two main color charts for their stucco lineup, along with a couple of other color charts for some of their specialty stucco products.
The two different color charts are basically the same colors, one of them having some of the most used colors and the other with all of the colors they offer.
Here are some quick links to their color charts, if you want to visit their website and see for yourself what they have to offer...

Senergy Colors:
Senergy has only one chart to choose from, but has a cool tool that will enlarge up to four different color samples for you and allow you to print it, so you can take it with you.
Here are a couple of helpful links that you might be interested in regarding Senergy:

Sto Colors:
Sto Stucco has a very large assortment of colors that you can pick from. They have a standard colors chart, a premium one and a tool that offers somewhere around 800 different colors that you can sort by a group of base colors.
Links to Sto Stucco's site:

El Rey's Choices:
El Rey offers two different chart for you to choose a color from. The choices are a premium color chart and one from the Parex color palette.
The premium choices are for portland cement type finishes (traditional) and the parex selection is for acrylics and elastomeric finishes.
Here are some quick links that can help you find these charts quickly: