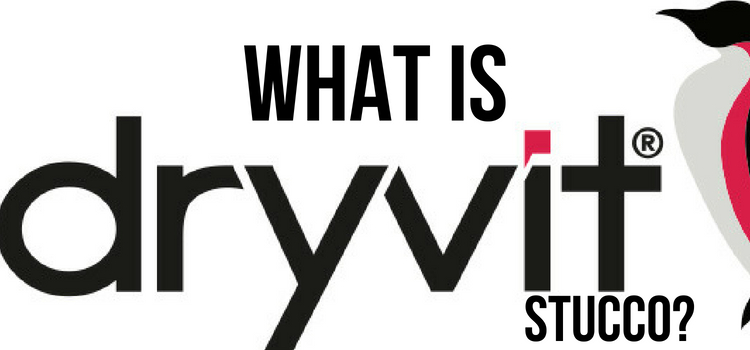 While I was performing a little research, I came across people wanting to know what Dryvit stucco is and was amazed that the information out there was a little vague.
I decided to write this short article to explain what Dryvit stucco is and you'll probably be a little surprised with the answer...

What Is Dryvit, Anyways?
Dryvit stucco is actually the name of a stucco manufacturer, not an actual stucco system specifically.
Dryvit is the name of the stucco company and they have different stucco systems including 3 coat stucco systems, EIFS systems, decorative systems and more.
You can visit their website to check out all of the different stucco systems they have to offer and learn more about the company, if you are interested.

Dryvit Stucco Is EIFS Stucco Or Synthetic Stucco?
While Dryvit does have a full line of EIFS cladding systems, I did notice that a lot of people online refer to synthetic stucco as "Dryvit" and use the name of the company to describe synthetic stucco in general.
Synthetic stucco is actually a finish coat material that is usually used as the finish coat on an EIFS wall cladding and it is designed to keep water from penetrating the wall.
Dryvit has been around for quite some time and has played a huge role in pioneering the synthetic stucco and EIFS cladding systems and is probably why a lot of people tend to use their name when referring to synthetic stucco.
What About Dryvit VS Stucco Applications?
Like I mentioned above, Dryvit is a company, not a stucco system so I think the better question might be EIFS vs hard coat stucco, which I will write an article on in the near future to answer that question but I thought it was worth a quick mention, anyways.
The Different Dryvit Systems Out There:
There are many different stucco systems or solutions that Dryvit provides and it is worth taking a look at if you are considering using their products.
You can check out their many stucco systems on their website to get a better idea of what these systems are and what they are best suited for.
There are six main systems that Dryvit offers and these serve different purposes, many of them are suited for commercial projects but will also work for residential applications as well. These systems are:
1) Continuous Insulation System: Their continuous insulation systems are basically stucco systems (EIFS mainly) that uses foam insulation on the outside of the building, creating an airtight, much more insulated wall.
2) Stucco System: Dryvit's stucco systems are more like a traditional 3 coat stucco system because they all utilize a scratch and brown coat in all of the different systems.
Some have upgraded water/air barriers, all of them use metal lath and are suited for wood and/or masonry substrates.
3) Direct Applied System: The direct applied system is really just a simpler system that is applied directly over masonry, wood and ICF substrates and does NOT include a continuous insulating barrier.
4) Panelization System: Dryvit's panels are pre-made panels that all have an insulating layer (foam) and use mesh, a base coat and a finish coat in a prefabricated panel.
These are typically made for more commercial applications and are a more complex in nature than you might think!
5) NewBrick System: The NewBrick system by Dryvit is basically just a system that mimics the look of brick without all of the downsides of using traditional bricks (weight, cost, labor, etc.) The system really just focuses on the finish coat, which is the main layer in getting that brick look.
6) ReVyvit System: This system is for older buildings that need a facelift and there are many different options available that will cover just about every type of situation you can imagine when it comes to older buildings that have stucco issues (color, texture, energy efficiency, etc.)