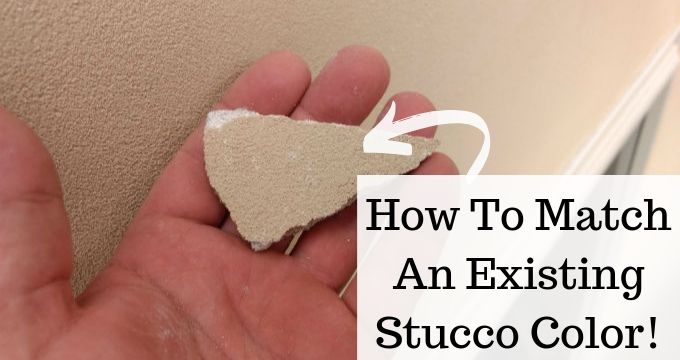 If you have an existing stucco color on your house chances are you are going to want to match that color at some point in time.
This could be due to an addition or remodel that you have going on now or sometime in the near future, or maybe you just want to match the color for some other reason, regardless of that reason it is good to know how to match an existing color on your stucco exterior.
How Do I Match An Existing Stucco Color?
There are really two options when matching an existing stucco color and these are: getting a custom color match from a stucco manufacturer or comparing sample colors on color charts to the wall and seeing which one is a match or a close match.
What Do I Need To Get A Custom Matched Color?
Getting a custom matched color for stucco works the same way it does for getting a custom color match for paint.
You need to bring in a clean sample around 1 1/2" x 1 1/2" in size to a stucco supplier or stucco manufacturer and have it matched.
They will take that color, get a formula together, make that color and make a sample for you on a thin piece of material (cardboard like material) for you to approve.
If the color is correct, you can then order the color packets or bottles you need to make that color yourself or you can have them make a premixed product for you.
Comparing Color Chart Samples With Existing Stucco Color:
The other option I mentioned was trying to match the stucco color with color charts.
This is a more time consuming process and will require gathering a couple of different color charts to get as close of a match as possible.
You will want to pick 2 - 3 colors that are close to the color you need and make small batches to see if they are close enough.
After you have made a small batch of finish, you will want to put some on a sample piece or the wall you are trying to match to see how it looks after it is dried.
Remember to compare color charts from the proper finish that is on your house.
If you have a traditional finish, then make sure you are using the correct color chart for those colors and not the acrylic color chart, unless you are changing the finish material.
Where Do I Get a Sample From?
The sample can come from many different sources but usually the best samples come from demolition, when you are taking some of the stucco off.
You can get a large enough piece and a clean piece from somewhere up high, where the elements did not affect the color as much.
If you are not going to be demolishing any stucco, then this becomes harder and you will likely have to get someone to match a color for you from one of the various color charts, getting two or three samples together and seeing which colors are closest.
It is very time consuming and becomes a technical skill that not all stucco contractors will have or want to take the time to manage.
On painted houses, you can grab a sample from different areas, other than the stucco, providing that they used the same color.
These are places like panels to the tv/cable boxes, down spouts or the straps used to hold them tight to the house or even from the paint that was used (if it is available).
How To Match Older Stucco That May Be Faded...
Older stucco is harder to match and if you are getting a custom color match, then you will be matching the faded stucco itself and not the original color that the stucco was.
The match will be the same color that the faded stucco is and will be close to that color.
Faded stucco is also harder to get a consistent match on because of the color variation that is in the stucco.
Your best bet is to either get a sample and try to match the faded/older stucco so everything looks similar or you can choose another color and have a recoat applied or the walls painted.
These are usually the two options for older stucco that has faded.
What About Painted Stucco:
Painted stucco is usually the easiest type of finish to match and you can usually find something to bring in to match the color without pulling any stucco off of the walls.
The fact that the stucco is painted will usually mean that the finished stucco will also be painted too, so you will likely just match the paint itself, instead of getting a custom color matched stucco.
You can get a custom color match in a stucco finish though if you wanted to put an integrally colored stucco finish on your walls instead of painting them again.
This is usually the case when people want a more maintenance-free finish on their walls and want to upgrade their wall or walls.
I Have a Traditional Stucco Finish...
Traditional finishes are usually the hardest to match because of their inconsistent color and the fact that they can actually absorb dust, which can alter their color.
The best places to get a sample from a traditional stucco finish is usually somewhere high up or somewhere covered, both places that do not see much rain, sun or staining.
You will have to bring in a piece of stucco in order to get a custom color matched color made or match the color yourself by comparing color chips on stucco color charts to the existing walls.
When comparing color samples to the existing wall (not custom color matches), try to get a sample from a couple of different places to compare any significant variations in color that might exist.
What About Acrylic Finishes?
Acrylic finishes are a lot like painted surfaces but you will still have to get a sample from somewhere if you want a custom color match.
The good news about having an acrylic finish though is that it can be matched very well and will likely come out very close if a clean sample is taken.
You can usually get a pretty close match from a color chart too, if you are trying to match the existing color from a color chart swatch.
Other Tips on Matching Existing Stucco Color:
Match the surrounding areas of your house that the stucco will be being applied to to get a better match.

For instance, if you are adding a wall on the back of your house and the stucco color on the back of the house seems slightly darker than the color on the front of the house, then grab a sample from the back, where the color will be a closer match.


A custom color match will be easier to achieve for a painted stucco wall and a wall that has an acrylic finish on it. A traditional (cement based) finish will be trickier because of the natural variance in color.


Remember that dirt and other debris that is embedded into the stucco sample piece will alter the color when matching it so be sure you have a clean sample.