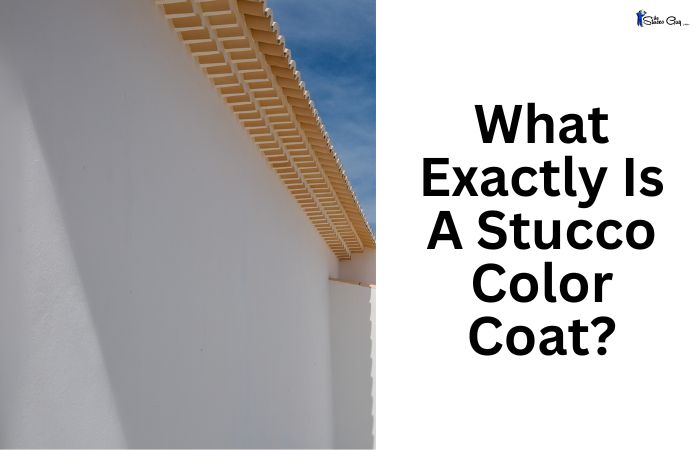 A stucco color coat is the most important part of the stucco process and is what most people refer to when they see stucco walls and what they think of, but it is only a thin layer on top of other layers. I go into the details in this article and try to answer additional questions I get asked most often when it comes to the color coat.
What Is A Stucco Color Coat?
A stucco color coat is actually just referring to the thin top coat of the stucco, which is also known as the texture coat or finish coat and can be integrally colored (color added to the finish) or painted for color.
This coat is usually 1/16" to 1/8" thick and contains the color and texture on your walls. The texture is achieved by working the finish material in certain ways to get a specif look or appearance. The color is typically added to this finish material too and is colored through the entire finish. Painting is also a possibility after the color coat is applied, which will be a white, light gray or dark gray color, in its natural form.
Your Color Coat Options...
There are a couple of variables that are offered when it comes to color coats and this is specifically related to the type of material that is used. There are generally three types of color coat materials available and these are: a cementitious coat, an acrylic coat or a synthetic coat.
Acrylic Color Coat
An acrylic color coat is made from acrylic and is a lot like paint, it just has aggregate added to it to get a textured appearance. For example, Omega stucco uses crushed quartz as an aggregate and you can achieve many different finishes with this type of material.
This material comes in 5 gallon buckets and is stored wet, much like paint is and in fact acrylic stucco is almost identical to an exterior grade acrylic paint with the exception of having aggregate added to it and a thicker consistency.
All manufacturers have their own line of acrylic products, but they are all essentially the same, in many ways.
Synthetic Color Coat
Synthetic color coats are a lot like their acrylic counterparts but have more waterproofing capabilities, usually. These are usually less common in residential projects, as most projects will usually use either an acrylic finish or a cementitious product.
Cementitious Color Coat
A cementitious color coat is made from a Portland cement, in most cases and silica sand, with the addition of lime. The cement itself is usually white or a white-gray color in its natural form, but can have powdered pigment added to it to achieve a specific color, if desired.
This product comes in 90 pound bags and is dry, all you have to do is add color (optional) and water to it in order to make it workable.
You could also apply this finish coat material and then have it painted to achieve the color you want, which is what a lot of commercial buildings are doing nowadays.
Do I Need To Have A Color Coat?
To be quite honest, you do not need to apply a color coat on stucco in order for it to be a complete system. You could just add a bit of texture or work the base coat(s) in such a way that that would be your finished color coat and then paint that.
This is the case with a lot of historic homes that I come across, where a separate color coat was not used, just a textured brown coat that was painted afterward.