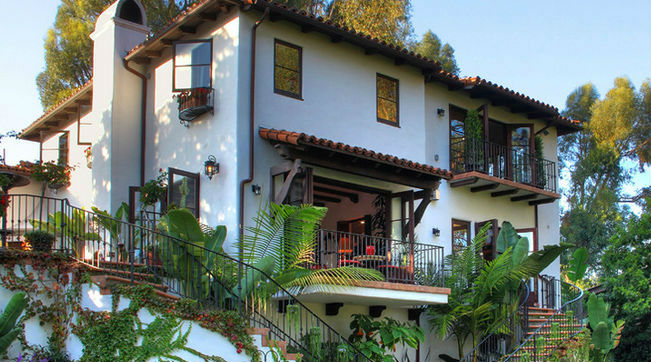 Spanish style homes have a style all their own and a few key characteristics that make them popular among many homeowners these days. I have found some of the best examples from around the web of "Spanish Style" homes that I think fit the bill.
Little features add up to a much broader "overall" look and feel of a building. Everything from the color, texture and architectural framing all add the necessary elements.

Lets take a look at some examples of what I feel are Spanish styled homes and check out some of the more specific building materials that are used to make them really stand out.

This is the perfect image for a Spanish style home, at least it is an image that pops up in my head. The arch entryway with the gate in the front of the house and the chimney are great examples of Spanish inspired architecture.


This is a great house done in a simple white stucco with a ton of Spanish appeal. The turret in the background, the retaining walls leading into the front entrance, roof tiles and windows really give off the authentic Spanish vibes.


I really like this modern white stucco finish, the house has a nice and clean look to it and the multicolored tile mix things up, they work great together. The windows have no trim around them and the walls are taller than average ones (looks that way, anyways).


I picked this house because it has a different kind of Spanish look to it. The only two elements that make it "Spanish Looking" are the red roof tiles and the vent pipes in the middle of the gables. I do like the arch design towards the middle of the house, right above the first story window.


This is really a mix of Mediterranean and Spanish styles. What I like about this home is that there is no trim around any of the windows, instead there are live plants, which is a fantastic look and very unique.


I love the color variations that are shown here in the yellow stucco finish, the dark brown trim, windows and doors really make the house pop. This is another simplistic design with minimal trim, the doors and windows are recessed, making them a little more pronounced though.


I would probably put this in a Mediterranean class but think that it can resemble a Spanish look as well if a few changes were made to the color and roof tiles. Foam trim is used throughout the home and really make everything "pop" out at you.


I really like the combination of rock and stucco on this home. The walls are very tall and the arches on the first floor would make you feel as if you were walking through a giant courtyard. This is more of a modern twist on a Spanish type of look and a great example of something different.


I was really surprised to see this home in the color scheme that was chosen, I do not particularly like the pink trim but thought it was quite unique. The windows are wrapped with a simple foam and the columns along the second story are a nice addition.


This house is very beautiful and has a great balance of everything. The plant life, the simple white finish on the house, the darker wood and the roof really bring everything together and make for a delightful atmosphere, all around.


I have not come across many modern style homes that use neutral colors and can still achieve a truly "Spanish" look but this one is a very nice example of just that. The copper downspouts, mosaic diamond accent pieces on the gables and the garage doors really bring the whole look together. What a great color combination!


This reminds me of a house that you might find in a small town along California's Coast but a Spanish Theme really takes the lead. It is simple, colorful and stays very true to the Spanish tradition of architecture.
Lets Look At Some Of The Architectural Stuff:
The elements that actually make up that classic "Spanish" look are quite dramatic ones but is easily achievable. Here are some of the things that I believe make a house look the part…
The Roof Tiles Are Important:
What I notice first is the tile roofs that a Spanish style home uses, they really accentuate the whole look and add a very real touch. These tiles are usually a barrel type of style but can also have an "S" shape to them and are usually colored in some sort a reddish tint like terracotta.
The colors can vary but more often than not they are a solid color, to maintain that "simplistic" design.
Different Tile Colors: These are great examples of the different colors that can be found.
​"S" Type Of Roof Tiles: These ​have a little bit different shape to them but work well for some Spanish motifs.
Up Close Look: Here is a closer look at some of those "S" tiles and they are in a solid color, which really makes the look.
​Classic Barrel Tiles: ​These are the types of tiles that I think most of us are familiar with when we think of a Spanish Style...
Lets Throw In A Few Arches…
There are usually many arches on these style houses and they are usually a true arch, as opposed to a more subtle one (like a Mediterranean style home would have). They typically are not very wide and can appear in a sequence, side-by-side, on the windows, doors and various other areas of the house.
Windows And Doors Are Something To Think About
These two components make up a huge portion of the overall style, mainly because they are focal and breaking points on the exterior. I have noticed that the majority of them are darker in color, especially if the stucco color is a lighter one.
Gable Vents Are Worth Mentioning:
Coming Soon!

Different Types Of Textures That Create That Authentic Look:

Coming Soon!

​What About The Different Colors?

Coming Soon!