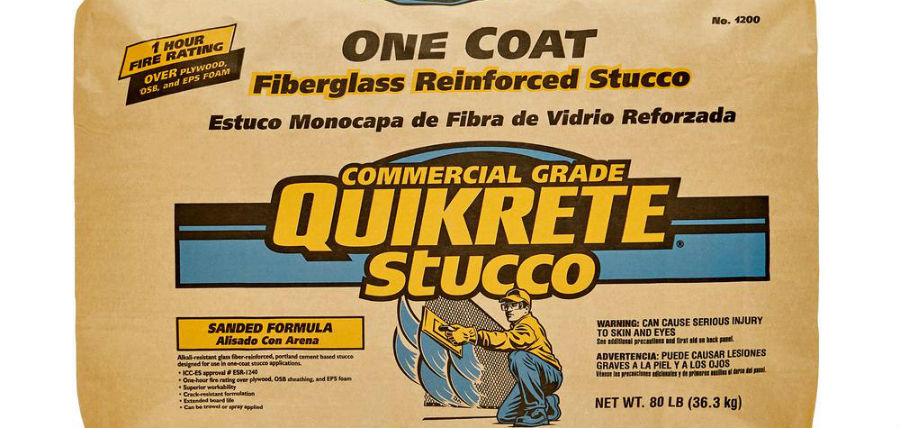 The typical ratio for a one coat stucco mix is basically one part cement to 3 parts sand and about 3 gallons of water, however, there are many one coat stucco mixes out there today that have specific formulas.
There are kinds that only require you to add water to and some that require both water and sand. Typically the ones that already have the sand added to them are a lot more pricey (since you are paying for the convenience). Mixing the sand and water in yourself is the best way to do it, especially if you have a larger project to take on.
The Two Types Of Products Out There:
As I mentioned before, there are two types of one coat applications that you can use and deciding which one to go with is dependent on a couple of things.
Water Only Mixes:
These mixes only require water to be added to the dry contents. This method is more expensive and is roughly $10-$15 in cost per 80-90 pound bag.
The average square footage that these 80lb. bags cover are somewhere between 20-24 square feet at 3/8 of an inch in thickness.
So for smaller patches, this type of material would be ideal and a lot more convenient than renting a mixer and having to add your own sand into the mix as well.
Adding Both Sand And Water:
Just for the sake of argument, we will use the same 80 pound bag of stucco, from the same manufacturer in order to do a more accurate comparison. So, the same size bag that requires sand to be added yields about 73-80 square feet at 3/8 of an inch thick. The average cost for the bag of cement is somewhere between $8 and $10.
Custom Mixes:
These are basically custom made mixes in which you add a certain amount of cement, acrylic and anything else you want to throw in the mix. Each manufacturer has their own recommendations on how to mix their particular one coat stucco, but all of their formulas are very close to one another and can be modified to suit your individual needs.
Mixing Requirements For Different Manufacturers:
Western Products:
200 lbs of sand, which is equivalent to 16 shovel fulls (number 2 shovel)


And Approximately 4 gallons of water


A minimum thickness of 3/8 of an inch is essential


The mix yields approximately 72 square feet @ (3/8") three-eighths of an inch thick and approximately 54 square feet @ (½") one-half inch thick.


Mix for approximately 5 minutes


For full version of pdf, click here
Omega Diamond Wall Concentrate:
First add somewhere between four to six gallons of water


Then add the sack of Diamond Wall Concentrate


Add 160 -240 lbs of approved plastering sand


Let it mix for three to five minutes


Stop mixing to allow the material to set up for a minute or two


Add water again, if needed, only once though


For the manufacturer's pdf, click here
El Rey FastWall System Sanded:
First add 1 and a half gallons of water to the mixer


Then add one 80 lb bag of FastWall


Allow it to mix for approximately 3 to 5 min.
Stop the mixer and let it setup for roughly 8 min.


Mix again before using (about 2 min.)


Coverage Area 27 square feet


For full instructions and spec sheet, click here
El Rey FastWall Concentrate:
Approximate Coverage area is 100 square feet


Add 5 to 7 gallons of water in the beginning


Next add the 80 lb sack of FastWall Concentrate


Followed up by adding 200-240 lbs. of approved sand


For complete pdf, click here
Sakrete One Coat Stucco Mix:
​Add (1) 80 lb bag to mixer


Add approximately 2 to 3 gallons of water


Let mix for 3-5 minutes


For complete instructions, click here