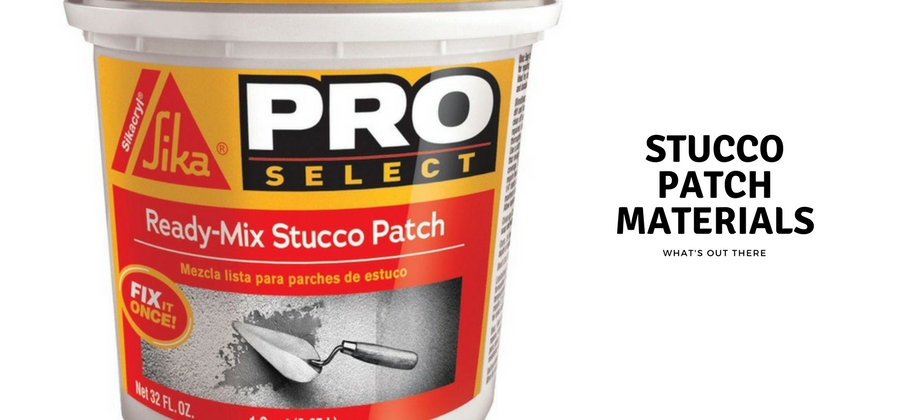 You can find a number of different stucco repair kits from leading home improvement stores like The Home Depot And Lowes, but do they really work and are all of them really an "all in one" type of solution for every type of stucco patch or crack?
I will reveal some of the advantages and disadvantages of these stucco kits, how to use them and where you can find them in this article, so you have a very thorough understanding of what to expect and how you can achieve professional results when doing these simple repairs.
Stucco Patch Material From Home Depot:
Home Depot has a few different materials that are available to the public and carry a couple of products that other stores do not.
Items will differ, depending on which store you go to, so ordering online is a good idea if your local store does not stock a particular item.
Stucco Patch Material From Lowes:
Lowes and Home Depot carry some of the same products, so I won't mention them here, but will focus on the other products instead.
Like The Home Depot, Lowes only carries certain items in particular stores or location, so call ahead before going in or simply order them online to eliminate unnecessary headaches.
Rapid Set Patch Compound:
This is a patch kit that is made by a company named Rapid Set and I am a fan of all of their products. They usually have additives in their products that speed up dry time, so you don't have to wait to finish a wall.
Comes in a 25 pound sack/box


Has a work time of 20 minutes (ideal for smaller patches)


Can be used in scratch, brown and finish coats


Is colored gray, but is paintable, to match your existing color on the house
Application:
Add water to dry mix in a bucket or wheelbarrow and mix thoroughly


Apply using a hawk and trowel (check out my tools page if you aren't quite sure what these are)


Remember that this material has a working time of around 20 minutes, so only mix what you need, adding additional water will weaken the mix and can cause cracking to occur.
Phenopatch Premixed Stucco Patch:
This patch compound is made by DAP (a reputable company) and is a premixed material that is available in either a quart or a gallon sized tub.
This is a popular product and a lot of folks seem to like it but be sure to check the use by date, to ensure that it is still good and pliable.
Product Specs At A Glance:

Dries in about an hours time


Can be used on both interior and exterior stucco (better for interior IMO)


Premixed, so it is easy to apply


Comes in 1 quart or 1 gallon sizes


Sandable and paintable for easy color matching
Application:
This is applied with a small trowel or a putty knife, whichever is easier
Excess material can be wiped off with a sponge or float and water
Rapid Set Stucco Mix:
This is another Rapid Set product that can be used for patching the scratch and brown coats of stucco.
It can also be used as a base coat for both applications (not just for patches) when taking on larger stucco projects.
Fast set time, allowing you to scratch, brown and color coat the stucco in the same day, if you wanted to


Comes in 50 pound bags


45 minute working time, which is long enough for patching and convenient
Application:
Apply using a trowel, or spray on with a gun


Mix in a mortar type mixer, wheelbarrow or a bucket


Apply multiple coats in increments of about 3/8 of an inch in thickness
Documentation:
DAP Stucco Patch:
DAP has been around for many years and is the leading drywall and sheet rock product manufacturer in the US.
This is one of their "topping compounds" for use on interior or exterior stucco and is one of the only materials available from larger chain stores like Home Depot.
Comes in a 25 lb. bag


Easy to spread, goes on thin and consistently


For use in interior/exterior stucco applications


Dries in about 2 hours (depending on temp., humidity, etc.)
Application:
Mix the bag of DAP Stucco Patch and water


Mix in a bucket for best results, using a high speed drill and a compatible mixing attachment, or you can use a wheelbarrow


Apply with a hawk and trowel or with a taping knife (drywall tools)
LaHabra Color Patches:
These are made by one of the industry leaders in stucco products and they have an awesome reputation among contractors and homeowners alike.
This is for the finish coat only and is not recommended for more than 1/8" fills/voids.
Many different colors available (20+)


Apply as a top coat (finish coat/color coat only, 1/8" thickness)


Not suitable for deep patches, a finish coat only


Only water needs to be added


Will cover approximately 9-14 square feet (depending on the finish)
Application:
Mix with water in a bucket or small container, too small for a wheelbarrow


Apply with a hawk and trowel or a large putty knife


Other tools may be needed depending on the texture you are trying to match
Quikrete Base Coat:
I have personally used this material myself and think that it is a great product, the sand is fine and the cement hardens substantially well.
This is great for patching scratch and/or brown coats and can even be used as a textured finish coat, if you wanted to...
Comes in 80 pound bags


You only need to add water


Fine masonry sand, which is handy for certain applications


Used for scratch and brown coats
Application:
Add water and bag together


Mix in a mixer, wheelbarrow or a bucket with a high speed drill


Can be sprayed on or applied using a hawk and trowel
Quikrete 1 Coat Base (Fiber Reinforced):
This is essentially the same thing as standard Quikrete Base Coat, but it has fiberglass added to the mix for increased strength and to help minimize cracking.
I would recommend using this product for both three and one-coat stucco applications.
Available in an 80 lb. bag


Needs only water to be mixed with it


Has fiberglass strands added to it


Increased strength characteristics


Used for scratch and brown coats only
Application:
You will need to add water to the 80 lb. bag


mix in a wheelbarrow, machine mixer or using a bucket and drill with the appropriate attachment


Apply using a hawk and trowel or it can be pumped on with a sprayer/gun
Quikrete Pre-Mixed Stucco Patch:
This is a pre-mixed formula that is specifically designed for crack repairs up to 1/4" in thickness. It is a very fast and effective method for repairing cracks and requires minimal knowledge and experience.
It comes premixed in a quart sized container


Can be applied with a putty knife or trowel


For cracks up to one-quarter inch thick
Application:
Apply using a putty knife or a trowel


Wipe of excess material with a damp sponge or rag
Quikrete Stucco Crack Repair Caulk:
This is basically a specialty type of caulk that is textured, to match stucco's rough appearance and seals cracks up to 1/2" in width.
10 ounce tube


Easy to use and can be found in a tube like this or a larger size


Fills cracks up to 1/2" wide


Made for use on CRACKS only
Application:
Prepare cracks by opening up (or chasing the crack), remove loose debris and particles


Cut tip at an angle


Squeeze material out and apply generously


Match existing texture using special techniques (trowel, float, sponge, etc.)