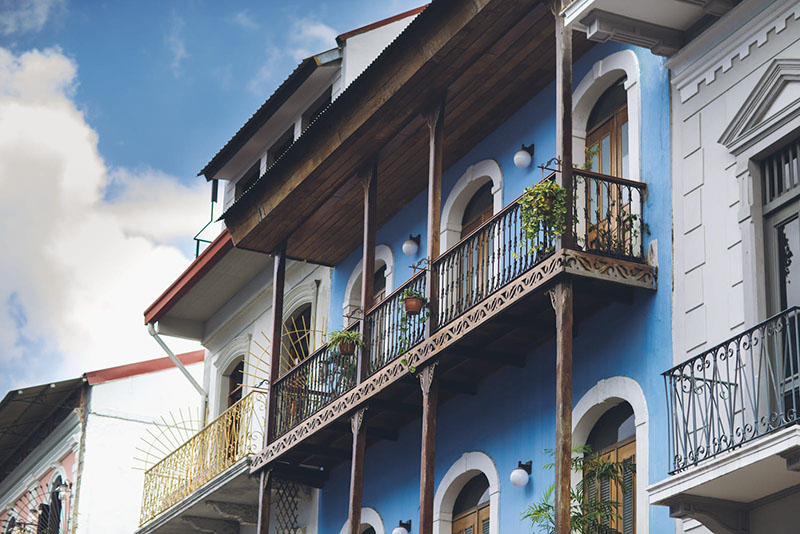 I'll be honest, I really didn't even consider having a blue stucco house in my life but noticed that people were searching for them and after doing some preliminary research, I decided to make a post on them!
Some of these blue stucco houses are absolutely gorgeous and I was really surprised at how much the color grew on me after putting a list together of some of my favorites.
Blue Stucco Colors and White Trim:
Blue stucco walls with white trim was definitely the most popular combination used out of all of the combinations that I found online, and the best part about using white trim was that it went with darker colors and lighter colors, as you can see in the four images I found below.
I also liked the darker wood stain colors that were used for some of the accent pieces and I think it all jived together well, if used sparingly.
Blue Stucco Examples With Stonework:
I was also able to find stone that worked well with the various shades of blue as well and from what I noticed a brown, white or gray colored scheme in the rocks themselves worked well and was more commonly used than any other colors.
Blue Stucco With Minimal to No Trim:
I was also able to find many examples of blue stucco houses that used no trim or minimal trim, which gave a completely different look altogether. I must admit that I think this minimalistic look works better with white stucco houses, but still can work with blue too.
I did notice that this look is more popular with the teal-blue colors more than any other hue of blue. If you did use trim, you could always choose to have it the same color as the stucco and it would blend a lot more, giving you a more minimalistic look, while having the trim still present.
Teal-Blue Color Examples:
Teal-blue stucco colors were also very popular and come in many different shades, as you can see from the images below. These almost exclusively used a white accent color for the trim and windows and medium to darker stained wood accent pieces also worked well thrown in the mix.
Blue Stucco Colors From Color Charts:
There are a few different stucco colors to choose from if you are applying a new stucco finish to your home or applying a re-coat over an existing finish.
These are available in an acrylic finish or a traditional (cement based) finish and the options for the availability of colors will be different, depending on the finish material you choose.
Blue Acrylic Finish Colors: The blue colors available in an acrylic finish will have similar characteristics to standard paint colors you choose from from a paint supplier or hardware store.
They have colors that they (stucco manufacturers) offer via their color charts and they can also match a color for you if you have a sample or reference code.
Blue Traditional Finish Colors: Traditional finishes are offered in blue tones but they will be more muted in color, when compared to the acrylic blue options.
Since traditional finishes are cement based, they usually have less vibrant hues to them.

Some of the color examples shown above may not be as "blue" as they appear in a physical color chart due to limitations in computer monitor's display characteristics but they are, in fact blue colors.
Blue Paint Colors From Various Color Charts:
If you are planning on painting your stucco walls, either new stucco or existing stucco, then the color choices are nearly infinite, as you know.
Be sure to allow for a little more paint, as stucco seems to use more than most surfaces, especially new stucco or stucco that has never been painted before.

You can check out some of the paint suppliers' website's to get an idea of what blue tones are out there, but brace yourself... there are a lot of options!
Here are a few quick links to some of the more popular paint manufacturer's blue colors:
What Trim/Accent Colors Go With A Blue Stucco Colored House?
It was pretty obvious to me after looking at dozens and dozens of blue stucco houses that the primary trim color that the majority of people went with was a white of some sort.
I also noticed that stained wood, different shades of blue, pale red colors and grayish tones could work well too.
White: White seemed to work the best for the blue and really made the trim pop, while making the blue stand out as well.
The white color did seem to vary though and I noticed that some houses used a brighter white and others used a more pale white but both worked well on lighter or darker colored blue stucco walls.
Stained Wood: Stained wood accent piece used for fencing, shutters, window trim, etc. also proved to work well with the blue stucco walls and with other colors too.
It was a nice touch of another color and element that seemed to bring everything together nicely.
The stained wood accent pieces were just that, accents and seemed to work best when used in smaller amounts of 10%-15% of the overall color scheme, in my opinion.

Different Shades Of Blue: I also noticed that a couple of the houses I have in the list used a different shade of blue on certain elements of the house... smaller details, but it worked.
The image above shows a home that used a somewhat darker shade of blue for the walls and went with a lighter shade of blue for the columns on the front porch and it blended nicely.
Other Colors I Noticed: There were a few different houses that used another accent color to go along with the blue walls and these made the little detail items stand out.
Red, for instance was used on a front door of a couple of houses I looked at and a couple of secondary trim pieces were painted red on another home (more historic home) to bring out the details a little better.
Another house didn't use white at all but used a darker trim color instead that resembled a chocolate brown tone or brown-gray tone with a lighter blue stucco color for the walls.
This made the trim blend into the house a lot more, instead of the stark contrast between blye and white.
What Color Should The Roof Be?
Roof Colors: The roof colors did vary, as there was no "clear cut winner" when it came to popular colors. From what I noticed the three main color choices were: black, gray, and brown.
There were some red tile roofs that worked okay but it seemed like it was too much red and clashed with the blue walls too much, making your eyes fight for attention between the roof and stucco.
Roof Materials: One major thing that I did notice was that asphalt shingles were used most of the time with the exception of a few houses having metal roofs installed. Both looked great as far as curb appeal is concerned and had a different overall look.
The houses that used a metal roof in the examples above were more geared towards a waterfront or beachfront style house and worked well.
The asphalt shingles gave the blue stucco houses a little more cottage feel, in my opinion and added a nice texture that went nicely with the overall look and feel of the houses.

Rocks And Bricks Can Also Work Well...
Rocks: There were a lot of examples I found online that used masonry veneer stones alongside the blue walls and one thing that I noticed time and time again was that the colors of the rocks were similar and seemed to work well.
Gray and white toned rocks were almost exclusively used and the lighter toned gray colored worked better than the darker ones, I think.
Brick: I also noticed that a couple of these houses had brick installed (in small areas) and the subtle addition of the red brick contrasted nicely with the blue walls.
The nice thing about the brick is that it worked with both darker and lighter blue walls.