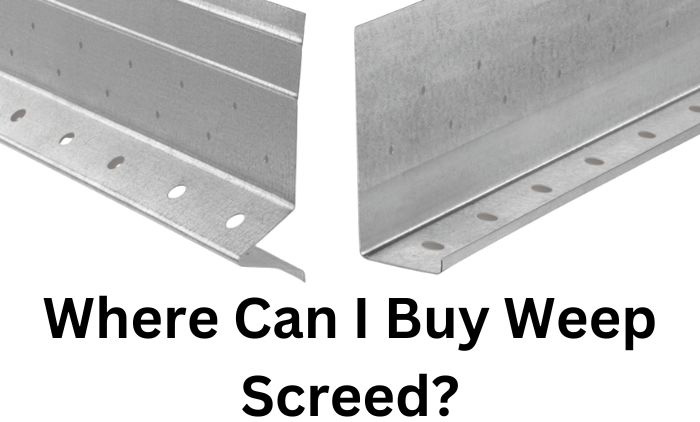 Weep screed is an essential part of all stucco systems and it is usually the first element to be installed on the wall, but actually locating it can be a challenge for some people.
Where Can I Buy Weep Screed?
You can buy weep screed from two main places, a small or large (chain) home improvement store or a local stucco supply yard. Most big box stores will carry some weep screed, in my experience, but will not have the inventory that a stucco material supplier will.
Home Improvement Stores
Home improvement stores will usually carry a very limited supply of weep screed and this can vary from store to store and even from location to location, if shopping at the same store!
I have not had very good success with smaller home improvement stores, like a local ACE Hardware store. They just don't seem to carry any at all, as it is more of a specialty item and the store usually is a lot smaller, not having the room to stock such items.
Bigger stores like Home Depot and Lowes will carry weep most of the time, in my experience, and will usually cater to the three coat stucco system, most of the time. This will usually come in the form of a number 7 type of weep screed that has a depth of 7/8 of an inch.
* Note that when looking for weep screed on websites like these, they will oftentimes refer to it as "sill screed".
Local Stucco Supply Yards
This is where I recommend getting your weep screed from because of the inventory options that are usually in stock. If they do not have it in stock, they can order it for you, which means you can get exactly what you need for your project.
On top of that, the staff that work at these places are way more knowledgeable than someone who works at a bigger box store and can usually answer any questions you might have regarding weep screed or stucco, in general.
Cost Comparison...
I have found that my local stucco supplier, here in Northern CA, offers their weep screed for far less than the big box stores, somewhere in the ballpark of 40-50% less, in some cases! That's a huge savings, especially if you are planning on buying a lot of them.
I also know that some stucco supply yards will even offer a discount if you buy a whole box of weep screed, which will save you even more.
Inventory Selection:
Like I stated earlier, bigger chain stores like Home Depot and Lowes will not have many options for weep screed, usually just a 7/8" weep for a 3 coat system and only in the #7 style, not the "J" type. If you have a one coat stucco system, then your options are even more limited and will be more location specific, from my experience.
Local supply yards will have just about every variation of weep screed in stock, at least the most popular ones in your area. This can become confusing if you don't know what you need or know what it is referred to as, so taking pictures and measurements can help you immensely, especially if you are trying to match some that is currently on your house.
Hours Of Operation:
The hours of operation are probably the only advantage that a bigger store will have over a local supply yard because they have more staff and tend to stay open later, on top of having better weekend hours.
Local supply yards will usually stick to more traditional "small business hours of operation" and will either be closed on the weekends or have limited hours on those days.