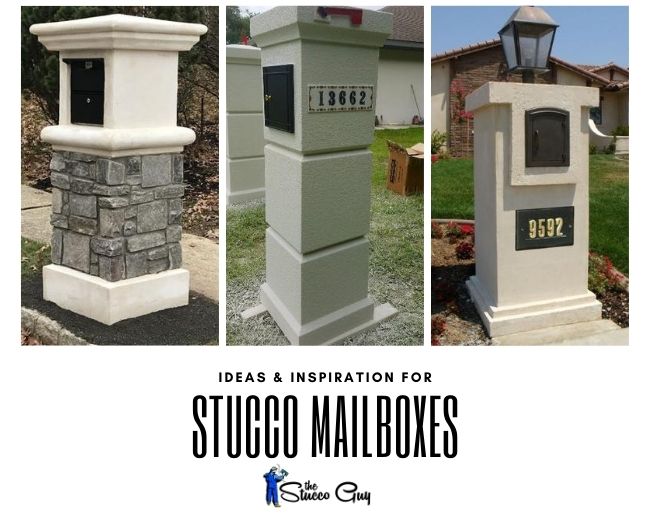 Something that many people don't think about is what their mailbox looks like, because we spend such a short amount of time there.
Some people actually like to have a majestic looking mailbox that completes the look and feel of their home.
Whatever the reason, stucco mailboxes are quite popular choices and getting design inspiration is going to be needed!

Here is an example of a simple design that would work for a lot of people, I think. The top of the mailbox is rounded but the accent pieces around the mailbox add a touch of elegance to the overall simplicity.
This mailbox is pretty neutral in color but I think many different colors would work and you could even swap out the white mailbox with a black one so it would go with the color scheme of the stucco a little better.

I really like the simplicity of this particular stucco mailbox.
The curved top is a little bit larger, which tends to accentuate the top end of the mailbox itself but then the bottom portion of the column is a little bit slimmer having that inward curve and then it bells out at the bottom again.
The mailbox itself is in a white stucco finish that looks to be a very light dash texture which is probably going to be the best looking texture for a little bit more elaborate designed mailbox like this.

This particular stucco mailbox has a lot of character, in my opinion and it really stood out even though it has a very simple design, with a standard 2x foam trim that runs along the bottom and a rounded foam pop out trim that runs along the top.
I like the brick accent that runs along the middle of the column and I think it breaks up the simplistic design just enough to make it stand out.
This particular model is using a larger, locking mailbox which is better for more rural addresses or if you have issues with mail theft.

This mailbox is probably one of my favorites out of all of the other mailboxes I have posted because of the balance of simplicity and elegance.
The overall design is nice but personally I think the foam trim should be larger on the bottom of the column and not the top but that is just my opinion.
The gray rock that runs along the bottom of the column really helps to break up the column but also ties all of the elements together too.
The mailbox sits on a foam corbel and makes for a nice little detail.

I really like the texture of this particular stucco mailbox because it is a lot smoother but it has little imperfections that remind me of limestone.
The design is very similar to the other stucco mailboxes, having a simpler more rectangular shape along the bottom, an ornamental piece in the middle and then a decorative foam pop out piece that runs along the top edge but has a totally different look and feel to it at the same time.

Here is another example of a stucco and stone mailbox that has a little bit different proportions to it, having a larger bottom half and they slimmer, more sleek top and to it where the mailbox is mounted.
The texture for the stucco is the same smoother texture but with little imperfections that remind me of a limestone type of finish.
The cultured stone that runs along the bottom portion of the column is a nice accent and goes nicely with the finish of the stucco.

Mailbox Choices You Have...
Locking vs Non-Locking: There are two different types of mailboxes that you can choose from and these are standard or security mailboxes.
Obviously, the security ones have the ability to be locked and the standard ones do not.
Sizes: There are size differences that you need to keep in mind too. I am not entirely sure as to how many different sizes that a "Postmaster Approved" mailbox can come in but I do know that there are smaller "standard" sizes and larger ones.
I prefer to have a larger one myself because I get a lot of Amazon packages and they fit a lot better in a larger mailbox, without getting all smashed up.

What Are The Mailboxes Made Out Of?
There are a couple of different ways that you could build your own stucco mailbox and to be honest, it is pretty simple to do if you follow a few key steps.

There are really two main ways that you can construct the shell of the column and these will typically be made from either wood or Styrofoam, for the most part.
Wooden Base: Wood framing will need to be protected from the elements, like a house would have to be, using a water proof paper like a two ply (60 min.) paper made specifically for stucco applications.
After the frame of the column is constructed with wood, you would then have to attach the two layers of paper to the wood, from the bottom and work your way upwards.
Then attach you metal lath and then apply the base coat(s) and finish coat(s).
Styrofoam: Styrofoam is another material you could use for building a stucco mailbox. Even though it wouldn't be as strong as a wooden framed one, it would be lighter and would not rot like wood could potentially do.
This is a much harder medium to work with though because it would involve more careful planning when constructing a suitable base that will be strong enough to hold the base and finish coats of stucco.

Mailbox Installation Guidelines:
A lot of people aren't aware that you can't just install a new mailbox and call it a hit, there are certain rules you must adhere to, or should I say, measurement requirements that need to be considered.
These are in place so your mail can be delivered without the mail person having to get out of their vehicles (in rural areas).
The image below shows the height requirements that are standard and also the distance that the mailbox should be from the curb or road.

Where Can I Buy Mailboxes/ Accessories?
Many places online sell mailboxes and if you do a simple search, you will find at least hundreds of options to choose from.
Amazon has an assortment of different mailboxes to choose from but, like I said, you can find them in many different places.