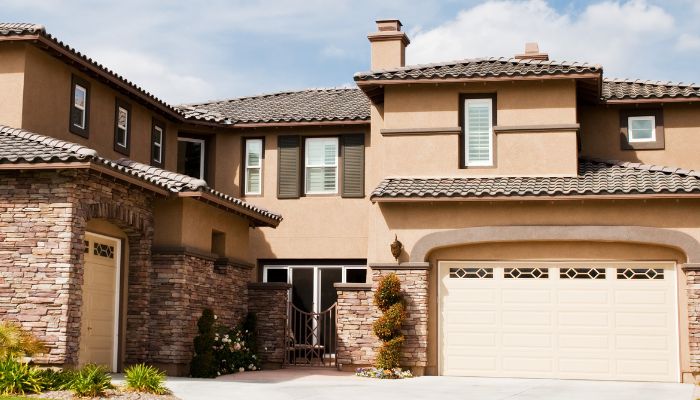 Stucco and stone is one of my favorite looks for houses and just about any building, for that matter.
I think the smoother look of the stucco and the erratic look of the rock work is something that just seems to flow together very well.
There are many different types of rocks and different colors to choose from and putting together different stucco colors and rock colors can be overwhelming, that's for sure!
So I gathered some pictures and sorted them by rock color to give you a better idea of what rocks will look better with what type of stucco.

Brown Rock Colors:
Brown rocks are one of my favorite colored rocks out there and it seems to go well with lighter stucco colors, in general, but there are also some examples of darker stucco colors in the pictures below that work well too.
Tan Stucco and Brown Rock Work: Using brown rocks with your stucco did take a little bit of consideration because not many colors go well with them, in my opinion. I noticed a pattern of colors that kept popping up when looking at combinations of brown stone work and stucco walls. Most of the time, a lighter neutral tone was used for the stucco color and this came in the form of earth tones, for the most part.
Tans were used a lot and blended in with the rocks a lot more, which made everything flow better. I was also able to find a couple of examples that used white walls and it looked good too and provided much more of a contrast.
Other Colors with Brown Rock Work: I was also able to find darker stucco colors that had brown rocks installed and to be honest, I was not as big of a fan of these types of colors. I don't know if it was the actual colors themselves or what, but they did not flow as well as some of the other examples I found. I also posted an example of a white stucco color to give a contrast of a color that worked well and others that didn't.
Stucco Color Variations With Brown Stones:
Here are a few different examples of a stucco home that uses brown rock work and by changing the color of the stucco, you can change the overall look and feel of the building.
I changed the color of the stucco to show what it would look like in contrast with the rock work, so you can get a better idea of how it would change the look and feel.
Gray Rock Colors:
Gray rocks really do compliment nearly any stucco color out there because of the neutral tone of the color.
There are darker gray rocks and lighter grays available and I threw together some of the examples I liked the most.
Gray Walls with Gray Rock: I was able to find examples of gray colored walls that used gray rock work and I did like most of them. The gray walls that had colors that were shown in the rocks themselves worked very well and seemed to flow a lot better than just a more random gray color.
Tannish Colors with Gray Rock Work: Tan walls also worked surprisingly well with gray colored rocks, I would assume because of the neutrality of the two different colors. I have a few examples shown below that have similar tan colored walls but very different colored rocks to illustrate my point.
Tan/Beige Rock Colors:
I was able to find a few houses that used a tan/beige rock color theme and from what I've noticed, there are a limited amount of stucco colors that would really go well with these colored rocks.

Lighter Colors: Lighter stucco colors seemed to work really well with tan colored rocks, especially when it was a color that was found in the various tones of the rocks. I noticed that using a less prominent color that was found in the rocks worked better and provided a nice contrast between the two finishes as well.
Darker Colors: I was also able to find darker wall colors that still worked with the tan rocks, which was still a color that was found in the stones themselves but gave a different overall feel to the buildings due to that darker color being used.
Lighter Rock Colors:
I was actually really surprised at the number of houses out there that used a lighter colored rock in their overall design.
I really did like the look of these examples though and thought that they were absolutely beautiful.

Lighter Colored Stucco Examples: When using lighter colored stucco walls with lighter colored rock work, it seemed to balance out the colors a little better and flowed pretty well, overall. I would still recommend using a color that was found in the rock to avoid that contrasting look that can be overwhelming, in some cases.
Darker Colored Stucco Examples: I was also able to find examples of lighter colored rocks that were used in conjunction with darker stucco colors and they still seemed to work well. I did not like it as much as the lighter colors because I think it provided too much of a contrast and the color used was a huge factor in this.
Stone Veneer or Manufactured Stone?
There are two main stones that you can purchase nowadays and these will fall into one of two categories: natural stone veneer or faux (manufactured) rocks.
Natural Stone Veneer: Natural stone veneer is cut from real stones into a thinner version, hence it's name. Since this is natural stone, you will have color variations from rock to rock but you still have a strong undertone of colors that will make up the primary color family of the rock, like gray and brown.
Natural stone veneer will be heavier (in general) than a manufactured stone and usually quite a bit more money than a manufactured stone.
The look of natural stone veneer is much nicer though, in my opinion and if you have the budget for it, I would recommend looking into a veneer stone first.

Here is a picture of a stone veneer called "Canyon Creek" and it has many different colors withing the different stones. I can see tans, browns, grays and bluish tints.
In my opinion, the main colors are gray and brown though, which would go well with many stucco colors and really stands out.

Manufactured Stone: Manufactured stone or faux stone is made in factories using cement and color to simulate natural rocks.
Since these are made and not natural, you don't get the variations of colors like you do with the veneer stones but you can get a more solid stone color that may work better for you if you are going for a specific look and rocks that have too much color variation could potentially ruin the intended effect.

Hre is an image of a manufactured stone and you can see that there is indeed color variations within the different rocks but it is a much more subtle difference, when compared to the picture of the stone veneer.
If you wanted a brownish tan colored rock, then this manufactured stone would give you just that, without the distraction of other colors.

Rock Shapes/Patterns:
There are different patterns that rocks can be laid out onto the wall which will affect the overall look and feel of the walls themselves, but it really boils down to personal preference.
Ledgestone, ashlar, random and squares and rectangles are a few of the styles you can choose from.
Some stones might only be available in one or two different styles, while others might have three to four different options, so you if you do have a preference for a specific type of stone, then be sure that the layout is available for that particular stone.
Dry Stack Or Grout Joints: As if stone color and layout patterns weren't enough to choose from you will also need to consider whether you are going for a dry stacked look or if you want mortar joints between the rocks.
Each method has a completely different look and not all stones will be compatible for both looks