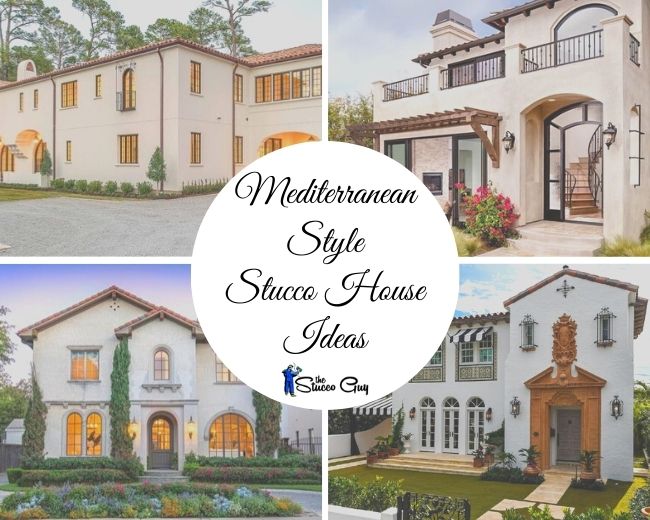 I have always loved the look of a Mediterranean style home that is finished in stucco, it has a look and feel of elegance and beauty.
The arches and "mottled" stucco that is oftentimes found in the finish is what really makes it authentic. Here are some of the best examples I found across the web and my favorite styles and colors…
Revival Mediterranean Style Homes...
I also found a few different Revival Mediterranean style stucco homes that I really liked and thought others would like to look at them too for ideas and inspiration.
Mediterranean Areas You Might Like...
In my search, I came across a few different pictures of areas around the home that had that same great feel to them and figured I'd post a few of the pictures I really like to incorporate some of the details that other pictures might overlook.
Mediterranean Stucco Textures:
Santa Barbara Smooth Finish
Steel/Plastic Trowel Float
Mediterranean Stucco Colors:
The majority of the houses that I see are really categorized into a couple of different colors, which means that the color you choose really brings out the overall look and is one of the most important factors.
The main colors I noticed were: whites, yellow/goldish colors and beige/tans. These had slight variations in the colors that were used but were very similar and I would say that 90% of the houses I found were one of these colors.

Let's Talk About Roof Lines:
If you notice, a lot of the rooflines I saw have many more hips and are framed using more of these, instead of gable roof lines.
An authentic "Mediterranean" roof will have tiles in either an "S" style (which is more popular) or a barrel shaped roof tile, much like a spanish themed house.
The tiles can be multicolored or a solid color but are similar in color and have specific color palletes. Check out the pictures below.
Can I Use Rock... Or Will It Ruin The Look?
Most of the houses that I looked at really didn't use a whole lot of rock in their mediterranean design. Some homes did have some though and it complimented the overall look nicely, it just comes down to the ratios and positioning.
From what I noticed, the ratio of rock to stucco was on the low end, making it flow better, in my opinion.
The picture shown here is using a small amount of rock as skirting, along the bottom of the walls and the front entry, giving a balanced look.
Using more rock can work too, however if it is utilized in the correct way but it will give the house a more "tuscan look" than mediterranean, in my opinion.
The picture illustrates a nice use of the rock but the rock walls are separated from the stucco walls, not mixed, keeping the look simple but elegant.
You can also use a larger ratio of rock than stucco and still achieve a mediterranean look to your house, you just have to find a way to separate the two materials in a way that will look natural.
This house used rock along the bottom portions of the walls and stucco on the top portions but in different ratios.
The Trim Around Windows And Doors:
The doors and windows on a mediterranean home will have a couple of different looks to them.
With a simple design, there will be no trim around windows and maybe a very simple detail around the doors but a more intricate design may use extravagant trim pieces around all of the windows and doors...
Some houses will not use a whole lot of trim details around windows and doors and it will still look visually appealing.
The first image I have here uses virtually no trim on the entire house, besides a simple 2x4 (foam) wrap around the front door.
The "middle of the road" choice is to use trim on the windows and doors but only use smaller amounts to give a tad more attention to the windows and doors.
The trim doesn't have to wrap around the entire window to look good, either, you can have shorter pieces that will still accentuate the important details.

Some designs will utilize a lot of foam details around the doors, windows and other parts of the house, making for a much more intricate look and feel.
This home used very detailed pieces of foam around the windows, doors, archways, running horizontally and other places to achieve this look.
Foam details are not the only type of material you can use. Stone and wood can also be used around windows and doors too.
Other Architectural Aspects: Coming Soon!